uBrowse is a shared web browsing application. In uBrowse, all connected users can visit websites as a group. Users enter URLs for websites in a shared address bar. When a new site is suggested by one user, others can choose to view that site. Connected users can also choose to automatically visit all sites suggested by other users. A shared history keeps track of recently visited sites.
To try uBrowse, click this start button*:
* Be sure you have all popup window blocking options turned off in your web browser (popup-blocking is built into Safari and Mozilla, and is an option in Google's toolbar for Internet Explorer).
Once uBrowse launches, use the address bar and the Go button to share your navigation with connected users.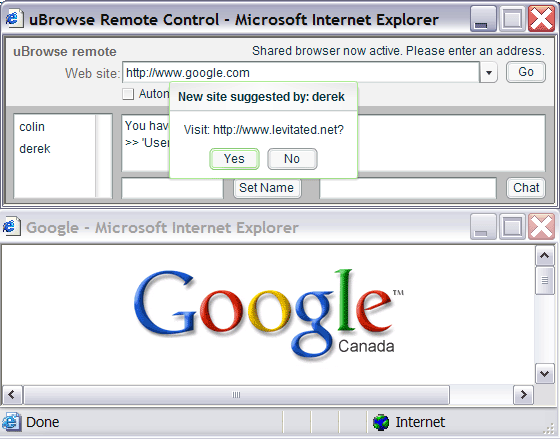 uBrowse demonstrates colin moock's assertion that all applications should (and one day will) have multiuser features. For example, uBrowse allows for the following scenarios, all of which would be welcome additions to the traditional single-user web browser:
web developers can demonstrate work to remote customers
staff at a company can review sites during a conference call
a presenter can give a lecture from a remote location via webcam, while controlling web-based slides remotely
friends can share a web browsing experience together remotely
visitors currently viewing a website can discuss the site, and form relationships based on common interest
Simply, the functionality of uBrowse should be built directly into web browsers.
Note that uBrowse allows multiple users to push only a single page to each other at a time. It does not reflect any user interactions (such as clicking links) within those pages. Ideally, page-internal interactions would be reflected to all users. The single-user nature of most present-day websites precludes this possibility. However, page-internal interactions can be experienced on multiuser websites such as uPresence, uAvatarChat, uTicTacToe, and other Unity-based sites. These multiuser sites naturally reflect the actions of their users, in poignant contrast to single-user sites. Multiuser sites feel "alive," "connected," "social," and "dynamic" while single-user sites feel static, isolated, and disconnected. Once again, the evidence here suggests that all websites and applications should (and one day likely will) have at least some multiuser functionality.
The uBrowse application requires the Unity 2 Multiuser Server, and is included with Unity 2 MDK and UClient for Macromedia Flash.
Colin Moock
April 2004